02 Nov

How a Bottle of Good Olive Oil Can Change Your Life
How did a Finance and International Business graduate from Western Michigan University become the founder and manager of one of the largest independent niche retailers in Florida? His olive oil sucked.
TAKE ME TO OLIVE OIL CHURCH
Two years before Kalamazoo Olive Company was born, owner James Ryan had a chef friend over to his house for a visit. And although James has what he describes as a "fancy pants" kitchen — equipped with a Viking range — his culinary supplies were lacking. He didn't have a "good" drop of olive oil in the house. This chef friend told James that a bottle of high quality olive oil would change his whole life.
The next day, James found a nice bottle of extra virgin olive oil on his front porch — an offering from his visitor. James quickly put this new gift to use and discovered that the chef wasn't merely being hyperbolic, but that this "good" olive oil indeed changed everything. So much so that it inspired James to spread the gospel of Extra Virgin Olive Oil.
NO RISK, NO REWARD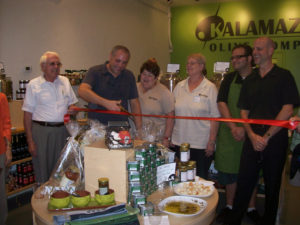 The then-full-time Certified Financial Planner decided that he wanted to make a bold move in order to follow his newfound passion. He left his position at Raymond James in order to lease a spot on Central Avenue in Downtown St. Petersburg. He put his entire savings into a building that was surrounded by boarded up windows and empty spaces. But he knew there was something there. He knew that the block needed something edgy in order to help revitalize the area. And what's more risky than opening a gourmet food store in the middle of a vacant block during the worse recession since the Great Depression?
A FORCE TO BE RECKONED (AND COOKED) WITH
In 2010, Kalamazoo Olive Company — a name that serves as an homage to James Ryan's adopted hometown — did $238 in sales during its first week. Six years later, it is one of the largest independent olive oil retailers in the state. With an expanding off-site presence at both the St. Pete Beach and Dunedin Farmer's Markets, participation in various festivals throughout the year and an increasingly robust corporate gift program, Kalamazoo Olive Company has grown into a Tampa Bay gourmet food force.
LOCALLY SOURCED, LOCALLY SOLD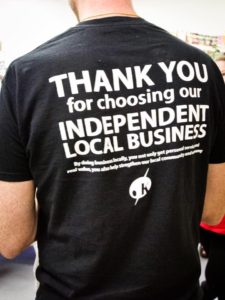 Kalamazoo Olive Company's original focus was on authentic, farmer-sourced extra virgin olive oil. Then James expanded the boutique shop's portfolio to include balsamic vinegar from the world's best producer. These days, Kalamazoo Olive Company shoppers can find anything from dips to mustards, jams, tapenades, pestos, pastas and many other specialty food items that complement its major product lines of olive oils and vinegars. James is always on the lookout for locally produced artisan food and proudly sources and sells products from Tampa to Tarpon Springs, Clearwater and Pinellas Park.
One of the aspects James loves most about owning and operating a business in St. Pete is the homegrown mindset. He appreciates how the community values small, independent businesses over Big Box vendors. "It's a wonderful and growing cycle when people support local over chains," he says.
FROM GOOD TO GREAT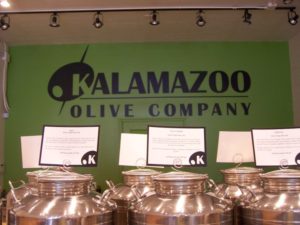 Olive oil really did change James Ryan's life. Not just because it made for better meals — which it did — but because it made for better business and a more rewarding presence in the community. When customers share how Kalamazoo Olive Company's products have helped them turn their kitchen efforts from good to great, it truly means something to James. People laugh around the dinner table. They discuss their day over a meal. They cry or vent or celebrate in the presence of food. And if a good bottle of extra virgin olive oil can be a part of people's most intimate life moments, well then James took the right risk.
Visit KalamazooOlive.com and check out Kalamazoo Olive Company's Facebook Page to learn what a good bottle of extra virgin olive oil can do for you or your clients.