14 Sep

Limited Release: Balsamic Vinegar "Molto 21"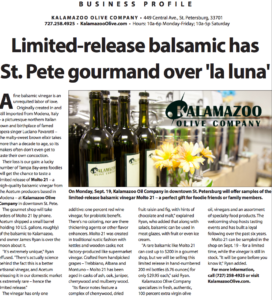 Molto 21: Balsamic Vinegar
Our Limited Release Balsamic Vinegar!
Limited Release Orders Begin Monday, September 19
Our Malto 21 Balsamic from Modena, Italy is exceedingly rare. Made from hand-picked White Trebbiano, Albana & Montuni Grapes, which are naturally sun-dried and then cooked in heirloom copper kettles.  Once reduced, the grape "must" is then barrel aged in a series of mulberry, juniper, ash, oak and cherrywood for several years.  The result of our farmer's passion creates this limited edition balsamic vinegar.
We only have less then 150 bottles available- each bottle is presented with special elegantly printed label and and satin ribbon-tied descriptive hang-tag. Each bottle will be hand-numbered and signed by one of our employees-guaranteeing the quality!
Normally, this quality and size of this type of high-end balsamic would retail for over $200. Our limited release is priced at $29.95 per 200 ml (6.8 oz) bottle. This is an amazing price-point and allows to you purchase multi bottles-some for yourself and some to give away as gifts for loved ones.
If you want your items shipped, please complete your order as normal.
Please note:  This is a pre-order only item!  It will not be available until 
Saturday, 

September 24th at 10am

.
  We are hand-bottling, label and certifying each bottle this week!
Tasting Notes:
Our Malto 21 Balsamic is extremely complex, boasting flavor notes of cherrywood, raisins, Italian figs, hints of dark chocolate and malt.  Serve with your finest cheese, fresh fruit, such as melon and berries, use as a finishing glaze for roasted meats and poultry, or drizzle on roasted vegetables.
Due to the limited quantity available we HIGHLY ENCOURAGE website pre-orders.  You may call the store to place a phone order, if product is available.  Please remember, this item WILL SELL OUT. The rare nature and limited quantity guarantees it!
Molto 21 can be sampled in the shop on Sept. 19 – for a limited time, while the vinegar is still in stock. We will be taking orders of Molto 21 by phone. Call (727) 258-4925