17 Jan

RECIPE: Tangerine Balsamic and Blood Orange Brownies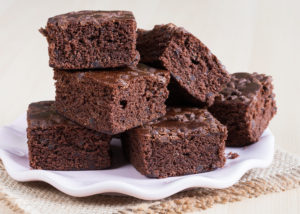 Have you ever thought about using extra virgin olive oil and balsamic vinegar to make brownies? It sounds strange, but totally works. With our Tangerine Balsamic and Blood Orange Olive Oil you'll be able to whip up a classic treat with a citrus hint.
Read below to find out how to make brownies with these unlikely ingredients.
---
1 stick (8 Tbs.) unsalted butter
4 Tbs. + 1 tsp. Kalamazoo Blood Orange Olive Oil
1 tablespoon fresh orange zest
6 oz. 60%+ dark chocolate, chopped
1/2 cup cocoa powder
2 cups granulated sugar
2 Tbs. Kalamazoo Tangerine Balsamic
1/2 tsp. kosher salt
5 large eggs, whisked
1/4 cup all purpose flour
---
Preheat your oven to 325°. Using a teaspoon of Kalamazoo Blood Orange Olive Oil, grease a 9 x 13″ baking pan. Line the pan with parchment, and cut to overhang the long sides of the pan.
In a large bowl set over a double boiler, slowly melt the butter with the dark chocolate. Stir constantly until it's completely melted. Remove  from the heat and stir in the Blood Orange Olive Oil, eggs, Tangerine Balsamic, orange zest and sugar. Mix until well combined. Whisk together the flour and cocoa powder and add to the wet ingredients. Fold until there are no visible dry spots.
Scrape the batter into the baking pan. Bake on the center rack of the oven for a half hour or until a tester inserted in the center comes out with very moist crumbs adhering. Let the brownies cool in the pan for 15 minutes, lift them out using the parchment, and cool completely before cutting. This makes about 24 brownies.
One of the best things about balsamic vinegar and extra virgin olive oil is their flexibility in the kitchen. From appetizers to desserts, the possibilities are almost endless. For the best results, always stick with the highest quality of ingredients.
Our Blood Orange Olive Oil and Tangerine Balsamic are just a few examples of the variety of ingredients we have Kalamazoo Olive Company. Drop by our store today to try some samples.